One should never stop being concerned with their future
because that's where they're going to spend the rest of they're lives!


Women Working to Restore our Constitution!
​
Welcome to Kingman Republican Women
Kingman Republican Women believe...
It is important to teach the next generation about the freedoms and values that founded the United States of America
It is important to educate ourselves on the issues and candidates
It is important for women to be involved in the political process and as candidates
It is important to support our Republican party and work for the election of candidates​
................................................................................................................................................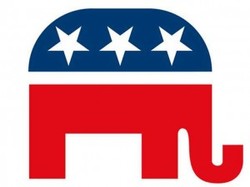 KRW Monthly Meetings
Our lunch meetings are held at 11:30 am at the Elks Lodge, 900 Gates Avenue, Kingman, AZ. Our meetings are held on the first Monday of each month. The meetings allow a platform for you to meet area leaders and politicians as well as to learn more about relevant issues and gain political knowledge. Please use the "Contact Us to Meetings" tab above to make your reservation to attend each month. or call @ 928-486-5325. ​

.................................................
Kingman Republican Women Club History

Kingman Republican Women's Club, originally began as The Mohave County Republican Women chartered August 15, 1956 at a luncheon at the Jade Restaurant with 25 members. Wilma Brummett was elected President, a position she held for three years.

The Democrats had been in control of the Mohave County for many years.The registered ratio was 6:1 for the Democrats. When Ford Proving Grounds moved in, most of the employees moving into the Kingman area, from Michigan, were longtime Republicans. Many of the wives helped us lifelong local Republicans organize and grow until 1973 when the Republicans outnumbered the registered Democrats 63%-37%.

Two of our Republican Women served as President of AZFRW, Wilma Brummett in 1961 and Helen Ely in 1966 and 1967.

---

February
Birthday's

Mary Clake
Ray Cullison
Sandy Lewin
JP Robertson
Jeanine Siebert
Suzie Sympson
Joan Tester


---

---

KRW Monthly Newsletter

...........................................................................
National Federation of Republican Women
President Carrie Almond, AZ elected officials and Arizona Federation of Republican Women officers stop in Kingman, AZ. Sept. 1st.
ALEXANDRIA, VA -National Federation of Republican Women (NFRW) leaders and their red, white and blue bus named "Rosie" will roll through Kingman, Prescott, Phoenix and Tucson as part of a multi-state campaign tour. The mission of the 'NFRW Destination: White House' tour is to elect a Republican president by registering Republican-leaning women to vote and rallying Federation clubs and communities across the country.

Mission

Promote an informed public through political education and activity.
Increase the effectiveness of women in the cause of good government.
Support the objectives and policies of the Republican Women.
Work for the election of Republican candidates.
Foster loyalty to the Republican Party to promote its principles.

2017 Membership fee: $30.00 yr.

2017 Associate fee: $15.00 yr.

Women who are members of another Network club are eligible for

non-voting Associate Membership.

Registered Republican men are also eligible for Associate Memberships.

​

If you have not renewed your 2017 membership yet, please find time to do that. Our membership renewal form is just below and easy to open. Also, sign up your spouse or significant other as an Associate Member for only $15.00 year. We're planning to have another great year in 2017.

KRW is an unbeatable team! Nancy Moschcau, President 928-486-5325 - email: nancym3@frontiernet.net.

​

(Click to print - mail or bring to our next meeting).

..............................................

The Mohave County GOP Republican Party DISTRICT 1 - Grand Opening Ribbon Cutting ceremony, at the new office, 1711 N. Stockton Hill Road, Suite A2. in Kingman, AZ.....10-15-2015

KRW meeting 4-4-16 Speakers: Candidates for Mohave County Recorder, Kristi Blair & Kim Stewart and Candidate for Mohave County Treasurer Cindy Landa Cox. Another GREAT meeting!

2017
​ Kingman Republican Women

President - Nancy Moschcau
Vice President - Carole Young
2nd VP 2016 - Suzanne Christman
3rd VP 2016 - SueAnn Mello-Keener
Secretary - Penny Holden
Treasurer - Cherish Sammeli


...................................................

Enjoy the camaraderie of
like-minded women
who share your political views.
We welcome all for membership.

BE INFORMED!

BE INVOLVED!

BE INFLUENTIAL!

MAKE A DIFFERENCE!


Kingman Republican Women, 2016 monthly meetings

"2016 Holly Jolly Christmas Dinner Party"